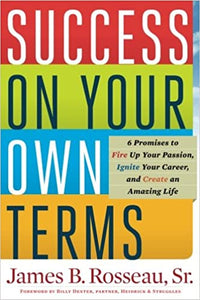 The published book from The Corelink Solution and Holy Culture CEO, James Rosseau, Sr.  He will autograph it for you prior to shipping if desired.
- - - 
"An incredibly authentic 'view from the top' from a leader who has never forgotten his roots, and in fact has used them as a competitive advantage."
--Kim Davis, managing director, TENEO LLC, former president, JPMorganChase Foundation

"The message to the next generation of leaders needs to be 'embrace your passion.' This needs to be reinforced...in business and life. James Rosseau is on it. I have seen James lead teams of people with gentle, dedicated, and passionate direction. He is a leader who garners respect. His words will inspire."
--Mark Berman, president, Mallett Group

Passion comes from inside. Stoke it.
Setbacks happen. Find your way around, over, and through them.
Be willing to receive, then give back. Pay it forward.

Many young people--perhaps four out of five or more--are dissatisfied with their jobs. Why bother to pursue a dream?

It's up to you to create your custom-tailored career and define success your way. How? Combine your burning passion with drive, determination, strategy, and commitment to pay it forward; and find and nurture mentor support, stay steady on your path, and see the fireworks. Success on Your Own Terms will show you exactly how to do it.

Living parallel lives as a business executive, Christian hip-hop media owner, and author, James Rosseau has merged the streams of his three passions to make a difference in his own life and the lives of countless others.

Learning to make and keep six promises during his diverse career, Rosseau now shows young people how to develop a plan for themselves.

These stories, lessons, setbacks, and triumphs--from the neighborhoods of North Philadelphia to executive leadership--reveal new possibilities in an inspiring blend of smart strategy, hard work, and willingness to connect to help others.